Samantha

Samantha Welcomes You
to her palace...
The Purr-fect place for cat lovers!
Hi! Welcome to my cat Samantha's website! Her previous website was at:
http://sampetejay.homestead.com/samantha.html
Samantha loves to spend her days on her screened in porch, or under the jungle-gym in the backyard. Her favorite passtimes are watching birds, and trying to catch little mice! Samantha doesn't go outside by herself, we walk her on a leash like a puppy to protect her from the busy streets. She loves taking walks!
Samantha was born March 25, 1998 early in the morning. She has three brothers that liked to use her as a pillow! Samantha was different from her brothers from the very beginning, she would not eat with the other kitties, and if she got food on her, she would (and still does) lick and lick until it is all gone.
Samantha is a really pampered kitty! She basically has a screened in porch to her self, her own personal playground, and a warm fuzzy bed to sleep in! I love her very much! >^..^< meow
Currently Samantha is 5 years old. Does that make her old enough for Kittygarden? She loves the warm weather we have been having and hopes that fall and winter will never return :oD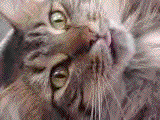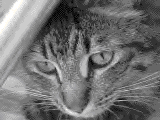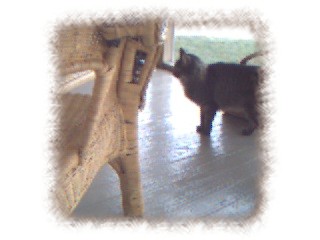 Support America ~ September 11, 2001
[PREV 5 SITES | RANDOM SITE | SITELIST | NEXT 5 SITES]

The I LOVE CATS Cat Ring CatWebRing
Original Page created on May 19, 2000
This Page created on August 31, 2001
Last updated on July 6, 2003